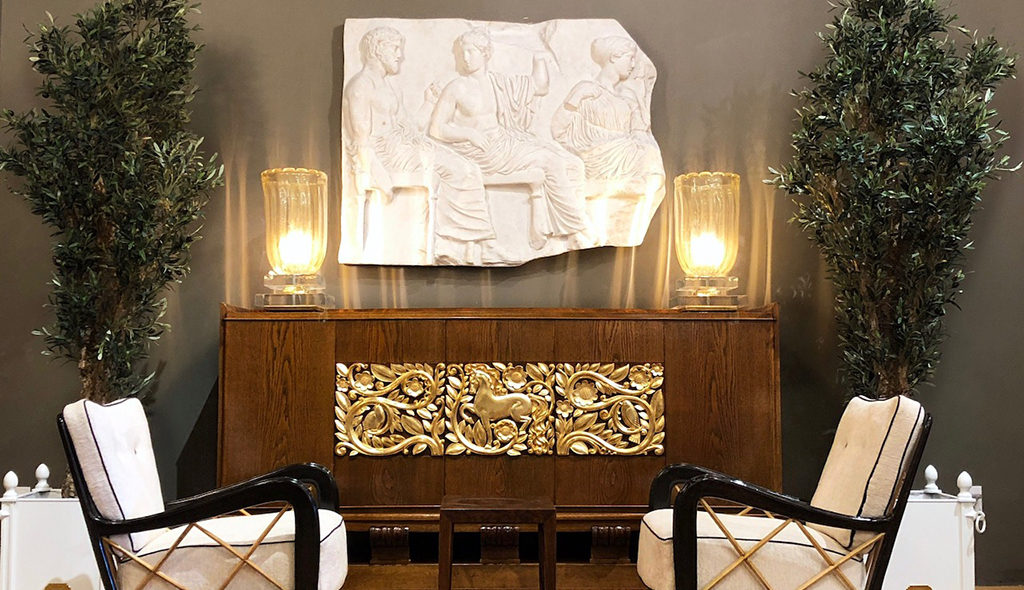 The Italian architect and furniture designer Paolo Buffa (1903–1970) is a lesson in refinement, and inventive classicism. Whether producing furnishings a luxurious hotel or decorating sophisticated villas in the area of Lombardy, Northern Italy, Buffa's work was marked by unmistakable polished charm and often of a bizarre and humorous appearance.
He had designed a 1930s rosewood and walnut buffet with a stacked mirrored shelving, sprouting from its top, or an Italian Empire–inspired secretary desk whose proportions are stretched and plumped, not to mention the spectacular flowering branches and butterflies intarsia wooden inlay, refinished by hand with a satin finish.
"Buffa is largely undiscovered and mostly misunderstood," says Domenico Raimondo, a design specialist at Phillips auction house in London. "On the one hand his designs reassure people," he adds, "and on the other hand they throw everything up in the air."
The following pieces are readily available
Paolo Buffa Credenza

Paolo Buffa desk made of oak wood, shellac polished, semi-gloss with an upper shelf. The front is veneered in oak parquetry decor. This credenza represents the Italian Mid-Century period.
Bonheur Du Jour

Very rare, detailed "petit secretaire", prov. Milan, Italy 1940. The exterior made of palisander wood, and has a paneled front. The interior is made of cherrywood, rose wood and thuja, contributed to the Italian architect Paolo Buffa (1903-1970).
Dining Table by Paolo Buffa

Dining or conference table by Paolo Buffa for Arrighi with a black glass top and rosewood inlays. (1903 – 1970 – Milan, Italy)
Paolo Buffa Cabinet

Paolo Buffa, exceptional bar cabinet standing on round conical legs with brass ornaments, egg white painted. Rosewood shellac polished body. Front with mirror excellent quality, the interior is covered with mirrored glass slightly patinated.
Pair of Side Boards

A pair of Paolo Buffa side boards made of polished walnut with original hardware. The pair have a glass top with two drawers, and two doors each. Lamps are not included.
Would you like to see more information on our Period Furniture? Please browse our expansive collection. See more….
T 561 805 9995